Membership made easy
Membership
Joining the Credit Union is the best decision you could take for your money. Lucan District Credit Union currently has over 16,500 active members and is growing. New members are always welcome.
With advanced biometric facial verification, and the ability to submit proof of ID, we're offering you a safe and reliable way to become a member.
Download App
Who can join?
Anyone who lives or works in Lucan or Adamstown. This is called the common bond. People who are members of the same household as a worker based in Lucan may also join.
What age do I have to be to join?
The membership of Lucan District Credit Union is comprised of new born members' right through to members who are now in their 80s and 90s. There is no age limit.
How to join your credit union
Joining is easier than ever.
Join remotely through our app as set out below, uploading the required documentation securely. With advanced biometric facial verification, and the ability to submit proof of ID, we're offering you a safe and reliable way to become a member.
Complete an application form in the Finnstown office and provide proof of ID (driving licence or passport), proof of address (current utility bill) and proof of PPS no. (anything from revenue).
Or download the application form from our website and drop it into us with the required documentation above.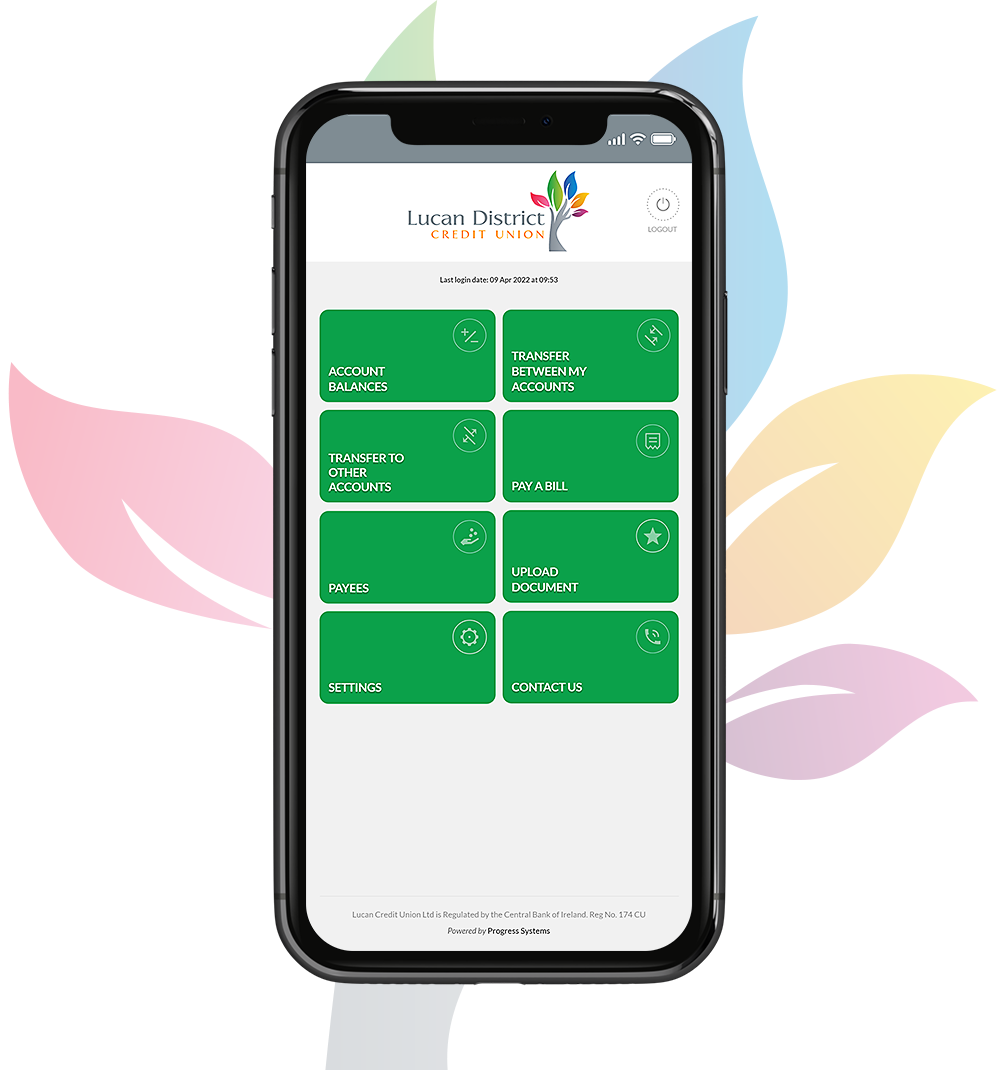 Secure Facial Verification
We use advanced biometric facial technology to capture and verify who you are. Simply take a quick selfie and you're done. This intuitive technology, ensures becoming a member is quicker than ever.
Reliable Identity Check
We've created a way for you to share proof of ID with us that's both secure and reliable. As you progress with your application, you will be given an opportunity to show your ID there and then. There's no waiting around.
Quick Online Access
Once your membership has been approved, we'll text you a temporary pin so you can have immediate access to your online account. You won't have to worry about anything, we will do the rest.
How to get started
Download our Mobile App
Make sure you have valid ID ready
Complete the form
Verify your Identity
Upload required documentation
Sit back and wait for us to review and approve your membership
Benefits of Membership
The credit union is not-for-profit and operates solely for your benefit and to meet your financial needs

All members of the credit union must have a share account with some savings. This means that you own a share of the credit union

There are no hidden fees, charges or penalties

You can use your shares as collateral to take out a low cost loan for home improvements, car loans, education costs or any other purpose. When the loan is repaid you will still have your shares. Save a little bit extra into your shares with each loan repayment and you would be in a much stronger financial position when the loan is repaid.

Our loan interest is calculated on a daily basis on the reducing balance of the loan. Pay a little bit less interest with each repayment.

You can pay more off your loan when you have it, to save money on interest, with no penalty.

You can avail of discounts and preferential rates on other services, like home insurance, foreign exchange and multi-trip travel insurance.

The credit union is governed by our members. You can volunteer to serve some time on our Board or Board Oversight Committee to gain experience of corporate governance and to enhance your CV. You may also avail of our education programme. See the volunteering section for more information.

Shares are covered by life savings protection insurance at no cost to you. This means that should anything happen to you, your savings can be up to doubled for your nominee or next-of-kin (subject to terms & conditions).

Members can now avail of a complimentary review of your current financial arrangements and advice and assistance with term and whole of life insurance, pre and post retirement planning, income protection, mortgage protection insurance, serious illness cover and more, through our agencies with the life companies.

Loans are covered by loan protection insurance at no cost to you. This means that your next-of-kin will be protected should anything happen to you (subject to terms & conditions).

Any surplus made in the year may be shared with our members in the form of an annual dividend and/or a loan interest rebate

You may participate in the members prize draw, the cost of this is €52 per year and there are cash prizes to be won each month.

Third level bursary. If you will be entering third level education soon or if your children are coming to that age, they may be eligible to apply for our third level bursary draw. See the section on education for more details.